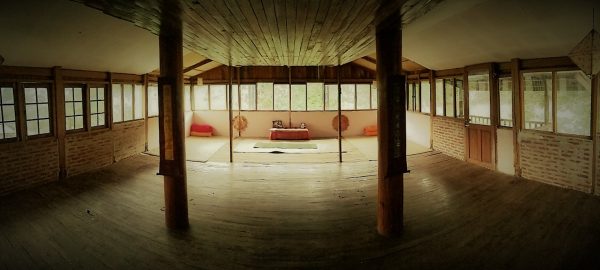 Whether you're a dedicated yogi or interested in trying yoga for the first time, or somewhere in between, you're welcome here!  Modifications are given as needed to accommodate each student's level.
Mats and props are available.
Classes are conducted in English but translation can be arranged upon advance request.
Kalaw Yoga Studio is located on the third floor of the main building at Sprouting Seeds Cafe.
33 Station Street, Kalaw, Myanmar
---
---
Class Times
Classes are held Tuesday through Sunday:
11:00 am-12:15 pm: Vinyasa Flow or Energizing Hatha
5:00 pm-6:15 pm: Calming Yin
Class Descriptions
Vinyasa Flow
An active and energizing practice that links postures with breath through flowing movements and creative transitions in order to cultivate space, strength and flexibility in the body.
Energizing Hatha
A slower and more gentle practice that focus on alignment and breath in each pose. Postures are generally held for longer than in a Vinyasa class and there are no 'flowing transitions' in between them-great for beginners! Classes will often have an energetic or anatomical focus and may incorporate mudras, pranayama or meditation.
Calming Yin
A practice comprised of more passive poses that are held for 3 to 5 minutes each to deeply stretch muscles and fascia, opening up lines of energy and offering a deep relaxation for the mind and body.
---
---
Contact us with questions, special requests or to schedule a private class through Facebook (www.facebook.com/sproutingseedscafe ) or text/Whatsapp +95 97786 26766.